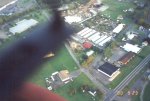 This morning we're flying from Steve Ushchak's field in Cheshire, the same launch site as the day of my checkride. It's scheduled to be a CLAS competition, but there are only three balloons here today: Robert Zirpolo, Santo Galatioto and ourselves, probably because this weekend is also the Adirondacks Balloon Festival in Glens Falls, NY. [Both morning and evening flights today in Glens Falls are weathered out, so those of us who've stayed home get to fly!] I'm short on crew and I've come to the field with just Gaston, planning either to fly solo with Gaston chasing, or to fly with Gaston, leave the car and trailer at Steve's and have one of the other pilots pick us up after the flight. As it turns out, Matt Dutkiewicz graciously agrees to chase for us, as well as handling the crown line for the inflation.

In the early part of the flight, we travel south for about 0.25 mile as we climb, eventually turning north.

Santo is giving a lesson to Macarena. After about twenty minutes, they do a practice landing. They're pictured here just about to land, as we drift slowly by. You can see Santo's chase car and trailer parked at the right hand side of the road below, and immediately to the right of, the balloon.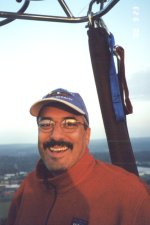 Here's Gaston, having a good time on his first ride.

Initially, I figure we may make it to the ball fields at Spring Street, another of our usual launch sites. However, we end up with more of a north northwest track, as opposed to the direct north we'd need for Spring Street, and after a while, we cross I-84, passing the north end of Panthorn Park. About 25 minutes into the flight, we descend a little to see what the wind is doing lower down. The north flow now persists to lower altitudes but we eventually catch a left turn as we descend. The left turn continues until we've just about reversed direction about half a mile north of Panthorn Park, and we start to head back directly toward the Park. After telling Matt that we're looking at Panthorn, we level out until after crossing the power lines at the north end of the Park (one of the golden rules of ballooning is never to descend while approaching power lines; they should always be traversed either in level flight or, preferably, while ascending). Then I vent for a landing in the middle of the large soccer field just beyond. No sooner has the balloon come to a stop than Matt appears. He comes to us, Gaston gets out of the basket, and they walk the balloon across the field to the access road where we deflate it and pack up.

We drive back to Steve's to take Matt to his truck and hang around chatting for a while with Steve. Shortly afterward Robert and his passengers arrive, followed by Santo and his crew. We all partake of Robert's champagne celebration and, among other things, toast Macarena on her solo, before heading off to Gene's for breakfast.