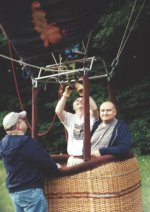 Yesterday about 5:30pm, I get a call from Santo. After chatting about the successful sign-off flight with Erwin, he asks me how the weather is looking for today and, on hearing my positive assessment, asks "Can you put it together for tomorrow?"
"Put what together for tomorrow?" I ask, confused.
"Checkride, Jim..." comes the answer.
A silence, then I respond with something lame like "That soon?"
"Are you going to be any more ready?"
"I'm nervous," I breathe quietly.
"You should be," he replies.
Later in the evening we commence the extensive oral part of the test, which takes several hours, and continues right through the end of the actual flight test. I'm to line up two crew members, so Santo can take on the role of examiner exclusively.

Macarena and Carlos graciously agree to come out and help on a weekday.

We meet at 5am in the parking lot of Cugino's restaurant in Cheshire, a short distance from Steve Ushchak's field, our launch site for this morning. I hand over the various documents and forms according to the PTS (FAA Practical Test Standards) document, and Santo declares the practical exam to have begun. Our crew arrives, they jump in the car with us, and we drive to the field.

The preflight is much longer than usual (about an hour until we're airborne, vs. about 30 or 40 minutes in the usual case, but I'm in no hurry and the PTS doesn't have any time restrictions, so I try to take everything calmly and slowly to avoid silly mistakes. Santo follows me around during the setup, peppering me with questions about what I'm doing, and other required knowledge. No question about it - this is a tough test.

Here, the balloon is finally inflated and upright, Santo is onboard and briefed, the tie-down is disconnected, and we're getting ready to take off. Santo is grinning but I'd guess my own facial expression was a little less relaxed...!

[My wife, on seeing this picture later, thinks the scorch mark on the Nomex scoop looks a bit like a parrot - anyone else think so?]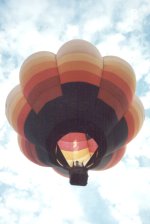 We've had a radio report from Erwin, flying from his yard again this morning, about 1/4 mile to the north of us, that there's a fast layer of wind beginning about 300 feet agl. We climb slowly, after clearing the trees that surround Steve's field with enough lift, to explore the wind layers.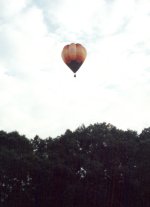 After we've looked at the low-level winds a bit, Santo asks me to go to 1,000 feet and fly level for 5 minutes. We talk about the wind direction which, at this altitude, is taking us a bit to the right and over the ridge, and he asks me to stay in the valley if possible, so we descend to pick up the south wind again. After discussion about the minimum altitude regulation (91.119) he directs me to contour fly for a while.

He also suggests that I try to enjoy the flight a bit, to which I think I remember responding something like "Maybe next time...!"

From time to time, Santo points out a field to me, asking if I could land there, and what I'd have to do to accomplish that. Based on our current track, I'm now looking at a school ahead, with some open green fields further beyond as a back-up. I need to climb a few hundred feet to track to the right a bit to make it there, before descending again to make my approach. I'm also noticing that we've been getting faster as the flight progresses, probably doing more than 10kt over the ground right now. So, it looks like I'm going to have a high-wind landing on my checkride.

[Many balloonists reading this are going to say "High wind?" "10kt?" but remember this is Connecticut where we have to contend with trees, landing in fairly small spaces, etc.]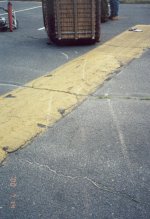 I make my approach toward the ball field at the front of the school but abort that landing when it's clear I won't make it in there as the fast layer of wind now extends all the way to the surface. Instead, I level the balloon out just high enough to clear the school building and the flagpole just beyond, and aim for the second of three sections of the parking lot (which is empty!). Just before clearing the row of shrubs that separates these two parking lot sections, I shut off the pilot light, and I pull the vent as we clear the shrubs about 10 feet above the ground. We impact just past the shrubs, and drag about 10 feet (see the drag marks in the picture?), but ultimately the balloon begins to come toward the vertical for what could have become a stand-up landing. However, rather than reactivate the fuel system and stand the balloon up, I decide to deflate it since it's in a suitable spot.

Santo has his GPS along this morning, and confirms our landing speed as about 11 mph. And, no, we weren't trying to use that yellow speed bump to slow ourselves down...!