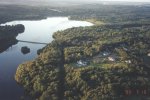 My instructor, Santo Galatioto, is the FAA Designated Pilot Examiner (DPE) for balloons for Connecticut, which means that he is the one who will ultimately give me my test for the private pilot certificate. Because of this, the regulations demand that I obtain 1.5 hours of instruction with another instructor, who will endorse my logbook and application form to pronounce me ready to take the practical (flight) test or checkride, as it's often called. I've already taken the written test in January of this year, and the passing grade remains valid for 2 years, so the flight test is the only one remaining.

So, this morning, I'm flying with Erwin Dressel in the hope of getting that sign-off. Since my balloon is older, the usual 30 gallons of propane I carry would not allow for a sufficient safety margin for both of us on a 90 minute flight, so we take along an extra 10 gallon tank of Erwin's. We launch from Erwin's yard in Cheshire, a few minutes after dawn. Erwin's wife, Ellen, is driving chase.

The winds are out of the north this morning, so we head mostly south toward New Haven. Here, about 10 minutes into the flight, we're approaching Broad Brook Reservoir in Cheshire.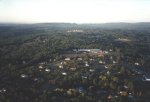 Again over Cheshire in this picture, you can see Hamden's Sleeping Giant State Park in the distance (left background).

We proceed south and are planning landing sites by the time we reach the Merritt Parkway (Route 15). In particular, we have in mind the large parking lot at the Oakdale Theater but we can't get enough of a right drift to go there. About this time, we hear on the radio "So, Jim, exploring a new neighborhood?" It's Santo, on his way to an FAA course in Hartford, who has taken this route and brought along a radio in the hope he'll run into us. After chatting briefly with him, we descend to catch the left turn low down (confirmed by spraying a little shaving foam over the side and watching it fall), and begin to track left toward a landing near Route 5.

There are lots of industrial buildings here with reasonable-sized parking lots; you just have to be very careful since there are also lots of power lines. We land in the empty parking lot of a former restaurant (now a church), throwing Ellen a drop line to ensure we won't drift toward the edges of the lot and the power lines.

Back at Erwin's, I refuel the balloon and he signs me off to take the test. A major requirement gotten out of the way with a lot of logistical help and support - thanks, Erwin and Ellen!