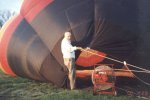 We're flying "Big Green" today. This is our third flight in the balloon, and we're starting to get much better at the setup process, and feeling much more comfortable with all aspects of the balloon. There are just a few pictures of this flight since we left the camera with Bill Dougherty, chasing solo this morning, and he was busy!

Pictured is Bill, holding the mouth of the balloon open during the cold inflation. Also, below, a "Bill's eye view" of the cold inflation.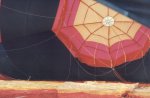 We're taking part in the monthly Connecticut Lighter than Air Society fly-out, this morning from Skylark Airport, about 5 miles east of Bradley International Airport, north of Hartford. This airport lies just at the edge of the surface tier of Bradley's Class C airspace, and the forecast winds are from the east, prompting one club member to suggest that the competition ought to be "drop the baggie on the tower!" We obtain a waiver from the Class C transponder requirement, and communicate with the tower as we launch. As it turns out after take-off, the winds are actually from the north-east, so we bypass the Bradley airspace.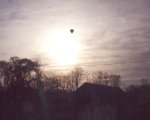 The actual flying is becoming more instinctual, with less concentration needed to fly the balloon straight and level, allowing us to focus more on the "big picture" issues of planning approaches to landing etc.. In fact today, Santo's (my instructor's) directive after take-off is to "do whatever you want, just tell me what you're doing and fly the balloon."

After 25 minutes, Erwin Dressel, flying the hare balloon, has not landed yet to place the X. We're still flying cautiously under the self-imposed rule "take the first good field after 30 minutes" to get used to the new balloon while leaving a large fuel reserve appropriate to a student pilot. So, we break off chasing the hare, and go higher to drift a bit more to the left, toward a potential landing site we've spotted about a mile ahead.

Bill took this shot of us about 10 minutes before landing, while parked at the side of Route 5. We're off to the east of Route 5 heading south, so there's a lot of sun glare, but it's a dramatic shot nonetheless.

We come in low over the trees, cross a road toward a farm field, passing over a single low-tension power line strung between the farmhouse and an out-building, and touch down gently just downwind of a parked tractor and plough. Perfect landing. Only 40 minutes flying today, covering 3 miles, but a really great flight.