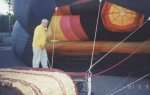 Bill at the mouth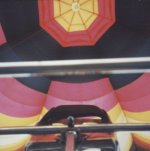 Inside "Big Green"
We're flying this morning from the lot at Panthorn Park again. Bill Dougherty ("Mr. D") is chasing. It's Bill's first crew outing since last April, and he's excited to be getting back to it.
The forecast is light and variable on the surface, with 6kt winds from the west at 3,000 feet. A pibal suggests that, after a modest north-south drift near the surface, we'll go north at lower altitudes, and toward the east or northeast higher up. We decide to use the good steerability to fly toward a goal, choosing Southington High School, about 4 miles away toward the northeast.
After going north for a while, we climb to catch the right turn, and find that we're doing about 8mph. It's still slow lower down. We descend to check out the direction below, so we can fine-tune our aproach, and climb again to regain the right (we do this twice).
On our final descent, the drift lower down is a little more toward the east than before, so we realize the high school landing is not going to happen, although it's only a couple of hundred yards away to our north. Instead, we make our approach across the road toward the same big field where we landed a couple of weeks ago. After crossing the road, we descend slowly, and we back up toward the southeast, landing neatly and gently in the back yard adjoining the field. This is where we'd have walked the balloon for deflation anyway, so it's a great spot.
We get permission from the owner to pack up, and chat with her for a few minutes. She tells us we're welcome to land on her property any time. It's always nice to know you have advance approval to land in such a large, suitable spot.