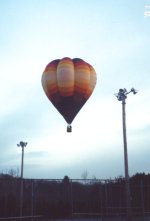 Santo at the helm
The winter weather has been particularly unkind to us, and we have not flown since mid-January. Since you need 3 take-offs and landings every 90 days to stay current, and our 90 days is up in mid-April, we both need to do several take-offs and landings today. Hence, the subtitle of this narrative: "Yoyo-ing for currency!" By the time we terminate today's flight, we have flown a total of 2.3 miles (about 1.8 miles straight-line distance) in 50 minutes aloft, and we've each done 4 landings! Even though we're not going anywhere fast, Lisa, chasing us this morning, doesn't see much of us during the flight, as we're up and down many times.

As we launch, the wind is just about calm. Santo begins the flight at the controls, handing the balloon over to me later after he's done 4 landings..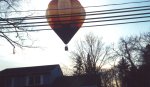 Approach
Exploring the light and variable system allows us a great deal of directional control, and I play with getting into some smaller spaces for practice landings. In one case, I'm approaching a tree line with a very small clearing just beyond, but the wind has picked up a bit and we're doing about 4 or 5mph, too much for such a small field. At Santo's direction, I bring the basket down to treetop level, we grab hold of a branch or two and hold on for a few moments. This slows the balloon down, and I vent a little to drop neatly into the gap. [Another useful technique goes into the bag of tricks. This one can also be used in reverse, to move the balloon along if you get becalmed over trees.]
After about 40 minutes, Santo asks me to develop a detailed landing plan, so we climb to move toward a large field to the north of us. We're working on precise altitude control, in order to hold our drift within a few degrees; we change altitude a bit to explore the various layers while we're still far enough upwind of the field to undo any changes we don't like. To get the correct direction, we need to make a high approach, and set up a steep descent. I round out a little too early, but I vent to correct, and we're on the ground. Lisa is right there, and she walks us to the edge of the access driveway for deflation. After getting permission, we bring the trailer onto the field, and pack up.