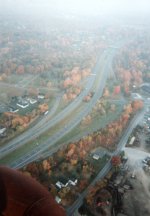 Once again we're launching from the big lacrosse field at Panthorn Park, today in the company of 8 other balloons. Lisa is flying with me while Carlos and Claude chase us.

We have a forecast of light and variable surface winds, with winds aloft about 20kt out of the west, and forecast surface winds for later in the morning from the southwest, so we expect to be able to go northeast. As it turns out, the wind is fairly fast even low down, and we find ourselves doing more than 20mph above 1000 feet.

We follow the other balloons over the ridge toward the northeast. Here we're climbing after crossing I-84.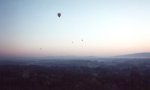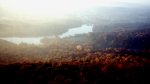 By now the other balloons are getting spread out with some electing to go high and far east, as in the first picture, others like ourselves moderately high and northeast, and still others contour flying over the more remote forested areas, slowing down and generally looking at the leaves, like Frank Bart flying "Party Time" in the second picture.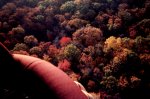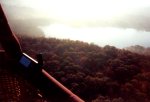 When we're near the remote forested areas of the ridge, we take the opportunity to do some contour flying ourselves, and Lisa gets some nice foliage pictures. In the second picture, that's our GPS receiver standing on the edge of the basket. It's not clear from the picture, but it is attached to a hook so it can't fall overboard!

When we eventually descend a little toward a series of possible landing sites, we are still traveling fairly quickly, about 9 or 10kt, so we know we need to find a good-sized open area in which to land. We are able to navigate by going toward the northeast higher up, and almost directly north lower down. A couple of potential spots don't work out, but after a while we land in a medium-sized field near Route 9 in New Britain, near the New Britain/Newington line. Our crew is right there as we land and they, along with a couple of bystanders, put their weight on the basket once we've stopped. Since it's a little windy, I decide to deflate right away, sending two people to the crown line instead of the usual one.